Paul & Sharon Adams,  Worldwide
Paul and Sharon Adams travel the world training, encouraging and equipping leaders through their organization, Ministry Consultants International.  They have touched thousands of leaders through their conferences and training sessions. They are raising up an army to spread the Gospel throughout the world.

David & Vicenta Cabral,  Philippines
David and Vicenta are caring for four young children on a fulltime basis. They also help provide food to the elderly, the needy and to those affected by various Typhoons. Their ministry helps individuals and families establish and maintain sustainable livelihoods as well as providing financial aid to those who cannot afford medical care and dental care. They are also deeply involved with evangelism outreach.

George & Leela C.,  India
George and Leela established a world-class theological seminary, New Theological College, a dozen satellite training centers, several primary and secondary schools, orphanages, and over 450 churches in north India. George also serves as the President of Good News for India and is the Director of our International Ministries Board.

Danny Curle,  Zimbabwe
Danny has served all his life as a missionary in Zimbabwe. He has cared for many orphans, fed thousands of hungry people, has been instrumental in leading many to the Lord, and has planted many churches. Right now his primary focus is feeding the hungry through food distribution and spreaching the gospel throughout Zimbabwe.

Steven & Jennifer Curle,  Zimbabwe
Steven and Jennifer pastor a church and are working with an orphanage in Zimbabwe. They are also involved in Bible distribution and other means of evangelism.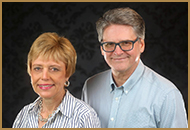 Jeff & Barbie David,  The Caribbean
Jeff works to strengthen the Cuban evangelical churches by providing theological and educational resources to Cuban pastors and church planters through the use of applied technologies. Jeff has created a network of learning communities in which trained mentors lead cohorts of pastors and church planters through a process of significant learning.

Gary & Karen Green,  Mexico
Karen and Gary serve some of the poorest of the poor children in Mexico by providing excellent Christ-centered education through the school they run by the help of the Grace International family.  Their hope is to establish an adult training center in the same facilities in the very near future.

Slavik & Tamara Kravchuk,  Ukraine
Slavik is originally from Ukraine, and he suffered much for the Gospel under the Communist rule. After living in the US for a time, he went back to Ukraine and started planting churches. With the help of Grace International he built a beautiful church building in Nikolaev.  He oversees over more than 58 churches in the region.
Lucas & Tara Levin,  Europe & The Middle East
In 2014 Lucas Levin, Sven's son, took on the reigns of the ministry overseas. In the past two years they have opened 2 Bible Schools and 7 new churches. Their goal over the next 2 years is to plant rural churches in Western Pakistan towards the Afghanistan border, and in Northern Pakistan to China.They are also working on being on Television in Pakistan and the Middle East through the Healing Channel.

Juan Carlos & Fabiana Manzewitsch,  Latin America and Europe
Juan Carlos directs Ministerios Vision Internacional. There are over 250 churches under his leadership in Mexico, Argentina, Romania and Spain. He operates Bible schools, plus orphanages in Argentina and Mexico.  The Ministry Training Centers are in Argentina, Mexico and Europe, focusing on evangelism, discipleship training, church planting, missions, revival and social work.

Stanley & Sandra Moodley,  Southern Africa
Stanley is the President of Grace International Southern Africa, and essentially oversees the work that was started by the Bronkhorsts.  He pastors a significant church in South Africa and oversees over 375 churches in Southern Africa.
Caleb & Alyssa Mooney,  Central & Latin America
Caleb and Alyssa are Directors of JuveNet International.  JuveNet works with hundreds of local churches in 10 Latin American countries to reach, equip, and mobilize young leaders for the Kingdom of God.  Specific ministries include youth camps, leadership conferences, educational sponsorships and outreaches, humanitarian aid, and new church plants.

Dario & Cindy Parish,  Latin America
Dario serves as the head of Grace International Latin America, with ministries in 25 countries in the world and over 700 local churches, Bible Schools and other related ministries. GI Latin America is now sending missionaries to Europe, Africa, and Asia. Dario also oversees the Spanish Church Planting in the United States.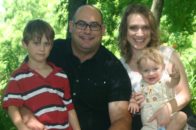 Troy & Esther Pierce,  Japan
Troy & Esther are the daughter and son-in-law of Dave and Naomi Robbins. They will be joining them in Japan to assist with the church-planting ministry as well as help pastor the  congregation that the Robbins pioneered in Togura, Nagano, Japan.

Keith & Radica Ramdass,  Trinidad
Keith and Radica pioneered Grace International in the Caribbean with over 10 churches under their leadership in Trinidad and oversee churches in Venezuela, Brazil and Guyana. Keith is the  founder and chairman of Central Ministers Fellowship, and Chairman of the Advisory Council of Every Home for Christ T&T with a mandate to reach every home in the Caribbean. Their vision is to train leaders and continue to pioneer and plant churches in the Caribbean and South America.

Tim Reynolds,  Assist International
Tim is Project Manager of Assist International, a ministry that helps the poor in the developing world through a three-fold approach: a) medical projects; b) children's projects and c) food projects. With the medical project arm Assist International builds the capacity of hospitals in developing countries to more effectively serve the people in their area.

David & Naomi Robbins,  Japan
David and Naomi have been missionaries to Japan for more than 30 years. They have faithfully labored in this difficult field in church-planting ministry. They pastor a congregation that they pioneered in Togura, Nagano, Japan.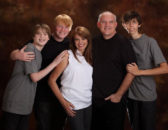 Skip & Debbie Rotert,  Brazil
Skip and Debbie serve as pastors of two congregations that they pioneered in a needy area of Brazil. They are also involved in reaching out to the youth of the area that desperately need the Gospel.

Jeremy & Amy Schuff,  YWAM
Jeremy and Amy are leaders with YWAM. They provide training and mobilization for new missionaries and recruits wanting to serve the Lord with YWAM. Their particular focus is to Mexico, Latin American Countries and the Hispanic population of the Central Valley of California.

Jesse & Holly Spencer,  Asia
Jesse was a pioneer missionary in Mongolian and Tibetan territories.  After his marriage to Holly, they planted a fellowship among the unreached Amdo Tibetans.  After returning to Asia Jesse, Holly, and their four children will train, send out, and encourage other missionaries—both foreign and local. Jesse plans to shepherd pastors, teach school and later establish a special education program.

Kevin & Jennifer Stebbings,  Asia
Kevin and Jennifer have been serving in Asia for seven years. Kevin provides leadership development and training for local and international leaders working in China and SE Asia. Jennifer serves among the deaf and disabled through Hearts & Hands. Together they seek to bring the life, love and leadership of Jesus to the communities in which they service.

Thomas & Gladys Ukwute,  Nigeria
Thomas is a Grace International national leader. He is responsible for planting over 50 churches, a Bible School and other ministries, including a skill acquisition center for training boys and girls to become better persons in society.  He also oversees Grace International Nigeria that has over 600 affiliated churches.

Dave Walker,  Worldwide
Dave Walker was called into full time missions after 32 years in ministry.  He and his wife Judy preach, train and equip the church and its leadership in the poorest and remotest places of the world.  He has reached 46 countries, helped plant hundreds of churches, and has brought salvation, healing and deliverance to many people. He also supports 8 orphanages and 350 pastors and funds the building of many churches and villages each year.